Complete Range of Facilities
The facility is developed on 693,000 square meters of prime water frontage land. It lies adjacent to Laem Chabang Port and is accessible by protected deep water, rail link and an excellent road system. The facility has a slipway, tow load-out jetties and 390 meters long quayside for loading heavy and large fabrication modules.
The purpose-built heavy fabrication facility comprises covered fabrication bays, blasting and painting facilities and extensive external fabrication and assembly areas serviced by gantry cranes.
Construction Area Loading Jetty Handling Tools Workshop Storage / Warehouse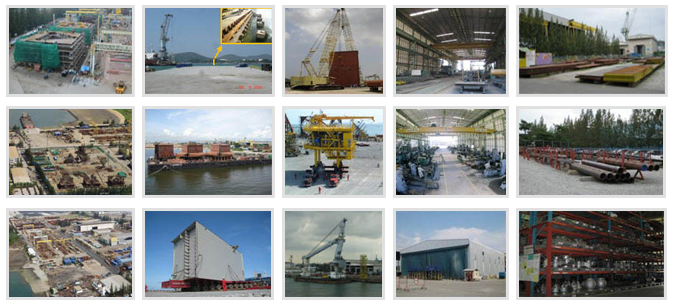 Total Area for Construction About 600,000 m2

Total Area for Construction About 600,000 m2

Paint Treatment Shop 6,100 m2


 

Open Fabrication and Assemble Area 183,000 m2

 

West Area Stock/Assemble Area 128,000 m2

 

Load Out Jetty 30 x 30 m (Load Upto 6,000 Tons)

 

20 -120 Tons Gantry Crane Lines