UTSE expands its capability to LNG Market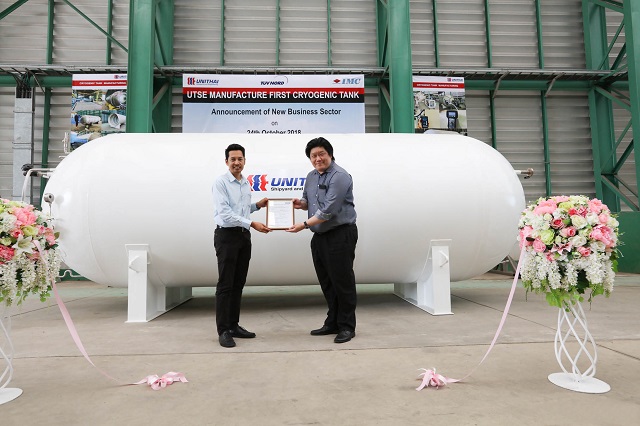 Unithai Shipyard and Engineering Ltd (UTSE) completed its first Cryogenic Tank as the first step to expand into the LNG market.
Completed in Sept 2018 and certified by TUV, the Cryogenic Tank has imprinted a milestone for Unithai which leads to new and vast opportunities of LNG and other cryogenics businesses in both local and overseas regions.
Demo tank was designed at the in-house design facility complying to EN 13458 and EN 13445 standards. Several R&D sessions and studies have been done for preparing a best design which yielded 60% better results compared to current market standards. Unithai developed the MPS for all materials and parts for the cryogenic tank and done the complete procurement process which can be utilized for future projects as well. Fabrication including rolling, fit up, welding, inspections, insulation and hydro test have been done by Unithai themselves while various suppliers have been used for He-N2 Leak Test and vacuum formation.