Unithai Shipyard Won Quality Assurance Accreditation in Saving Energy ISO50001:2011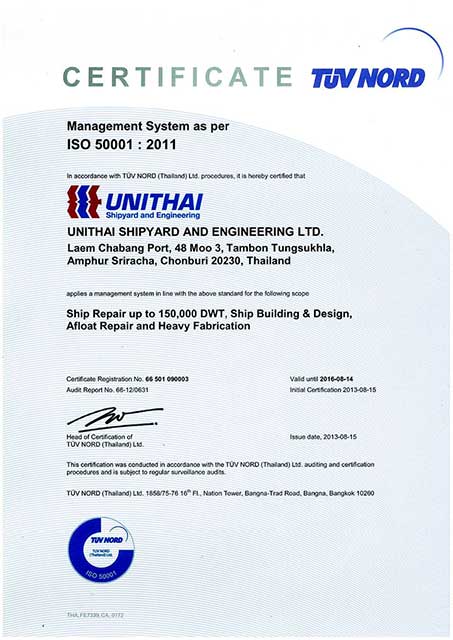 Unithai Shipyard won quality-assurance accreditation in Energy Management at the middle of the year from TUV Nord.
TUV Nord recognised that the company has placed more emphasis on saving energy. It participated in an energy-saving campaign hosted by the government's Department of Alternative Energy Development and Efficiency. Unithai Shipyard subsequently implemented its own in-house project, ultimately achieving the coveted quality standard ISO50001:2001. The project led by Senior Manager, Quality Assurance and Environment, Khun Somchai Pleanchaisuk, Senior Manager, Yard Service and Development, Khun Dusit Mittiya and Energy Management Team, representing from all departments.
"With a great support from Unithai Shipyard Managing Director, Khun Teerapon Udomkanjananan to encourage all staff participating in this project through various communication channels and the commitment from all parties that could bring the success in this project", Khun Somchai Pleanchaisuk mentioned.
This achievement marks another milestone in Unithai Shipyard for a success in entire quality assurances covering management system ISO 9001, environmental management ISO14001, occupational health and safety standard OHSAS18001.