Unithai Shipyard earns National Safety Award from the Ministry of Labour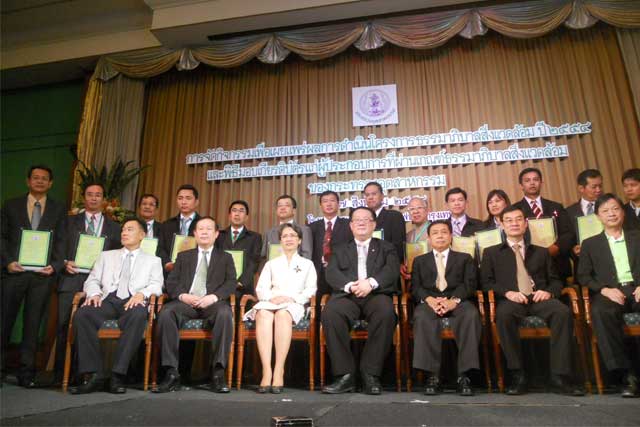 Unithai Shipyard and Engineering Co Ltd, one of the premier shipyards in Thailand, has received a certificate of recognition for Environmental Good Governance from the Ministry of Industry. It is the first shipyard to be recognised for excellent performance, specifically for having in place a system to manage the operational environment without causing adverse effects to the community. The certificate was presented by the Permanent Secretary of the Ministry of Industry on August 17, 2011, in the Grand Ballroom of the Golden Tulip Sovereign Hotel in Bangkok.
The ministry initiated the certificate programme to raise awareness in the industrial sector about the need for safe policies regarding the environment. To earn a certificate, all operational activities must be shown to comply with environmental standards and the relevant rules and regulations of the ministry. The programme also creates opportunities for community members to share their knowledge and concerns on environmental issues.
This year 300 industries in 51 provinces achieved this recognition, with Unithai Shipyard becoming the first shipyard to be honoured for best practice in Environmental Good Governance.
"Unithai Shipyard has placed more emphasis on environmental issues as well as promoting a strong culture of safety and healthcare," Managing Director Teerapon Udomkanjananan said. "The aim is to ensure that everyone arrives at work safely and gets home safely." Unithai Shipyard's current safety record stands at 18 million man-hours without a day lost from work.
Earlier this year Unithai Shipyard earned two significant awards – a National Safety Award from the Ministry of Labour for outstanding practice in safety, health and environmental care in the workplace, and a Corporate Social Responsibility Award presented by the ministry's Department of Industrial Work for continued attention to the needs of the community in accordance with ISO 26000 (CSR) international standards.
Unithai Shipyard has also been accredited ISO14001:2004 for Environmental Management System, ISO 9001-2008 for Quality Management System and OHSAS18001:2007 and TIS18001:1999 based on Occupational Health and Safety Management System in the workplace.