Unithai Shipyard, CUEL build water-pump pontoons to ease the severe floods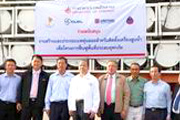 Unithai Shipyard and Engineering Ltd, the premier shipyard in Thailand, and CUEL Ltd, the leading offshore fabricator, is supporting a Ministry of Energy initiative to supply 100 pontoons mounted with water pumps that will ease the severe flooding in Thailand's industrial zones, beginning with the Rojana Industrial Estate.
The initial batch of 35 pontoons was handed over to the Energy Minister, Pichai Naripthaphan at Unithai Shipyard's operations site on November 15. All have since been placed at the Rojana complex with pumps installed and are now draining water to the river nearby. The remaining pumps are scheduled to be delivered by November 25.
Electricity Generating Authority of Thailand (EGAT) came up with the design for a pontoon 2,718 millimetres wide, 3,305mm long and 720mm high. Manufacturing each one requires 15 units of 200-litre oil drums, rendering a total weight of 1,200 kilograms. The large pumps mounted on them can drain up to 7.7 cubic metres of water per minute, so that the 100 pumps pledged to the Rojana Industrial Estate should have the area dry in 30 days.
Unithai Shipyard and CUEL have collaborated to support this Bt5 million project.