Unithai Shipping Agency successfully handling the large cargo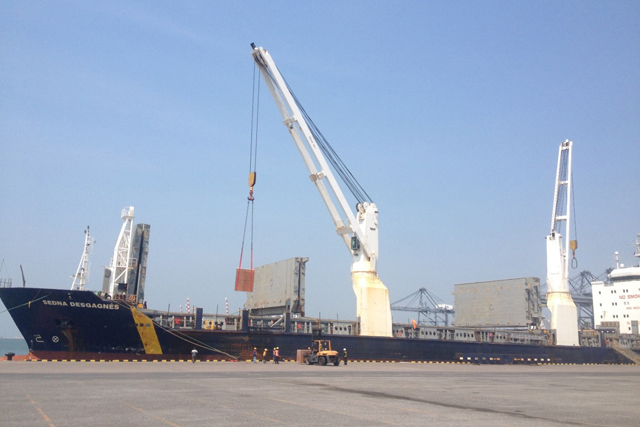 Established in 1976, Unithai Shipping Agency serves the import and export business in several important ways – as the agent for four container lines, two conventional lines, and one NVOCC service that transports imported cargo for the Thai government as end-user.
Various state enterprises make use of the agency, including the Electricity Generating Authority of Thailand (EGAT), the State Railway of Thailand (SRT), the Royal Mint and Thai Airways International.
The NVOCC section, part of the Conventional Department, specialises in both the formalities and the actual handling of inbound and outbound cargo, mainly for the governmental enterprises mentioned. This can take the form of locomotives, industrial transformers and power generators and other big machinery, to name just some of the items dealt with.
We are proud that our experience in this field can be of service to the government and an aid in building the economy and enhancing the overseas reputation of our beloved country. We are helping to create revenue through this key facet of our business, which includes handling all of the necessary formal documentation required by the Harbour Department.
As an example of how Unithai Shipping Agency deals with a particularly large cargo, the following procedure was used recently in handling a 216-tonne transformer.
The mission began with our subcontractor loading the needed accessories, already pre-packaged, at the Mae Mo mine in Lampang province. The cargo was covered with tarpaulin, as required in road-use regulations, ready for trucking to LCB C0.
EGAT's own transportation team delivered the 216-tonne transformer to LCB and did the initial installation on the cover plate at the port before loading.
We took over at this point, preparing to ship the gear aboard the MV Sedna Desgagnes. Installation of the cover plate was first completed and then the 18 packages of accessories were hoisted into Hold No 1. The transformer itself was now ready to load.
Stevedores prepared the beams for lifting the heavy cargo. Slings were checked to ensure there would be no damage to the cargo during loading. Several cranes working in tandem hoisted the massive cargo into the hold, to complete loading.
This is the whole process that Unithai Shipping operation team has maintained the best performance of high quality services with safety operational process to undertake the large cargo.