Unithai Offshore / Oil & Gas Fabrication Division (OFD) shows off its talents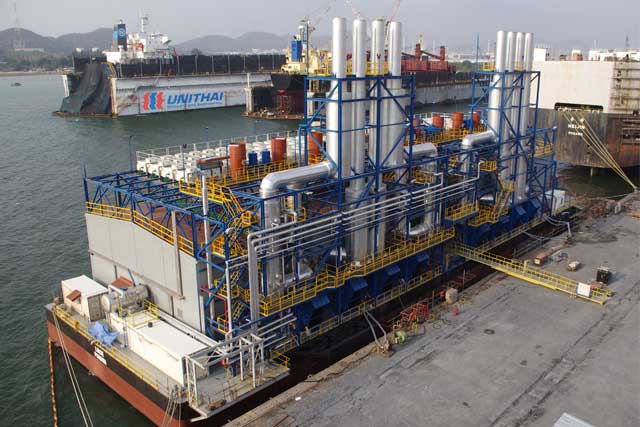 Floating power plant finished, another awarded
---
Unithai Shipyard on March 10 delivered the first floating power-plant barge ever built in Thailand to Wartsila Finland Oy, as per a contract signed early last year. The 85-metre barge with an 8xW20 V32-capacity diesel generator is capable of producing 71,390 kilowatts. The vessel is currently undergoing tests ahead of commissioning and will then be loaded onto a semi-submersible ship for transportation to Lihir Island off Papua New Guinea, where it will serve the Lihir Gold Mine Project.
The success of this project underscores the excellent collaboration between the Unithai-OFD project members and the professional team from Wartsila in providing the ideal solution for the contractor's needs. They put every effort into this unprecedented project for Thailand.
With the strength of its team clearly evident, Unithai Shipyard has now won a repeat order from Wartsila to build another power barge, 105 metres in length and 32 metres wide. It will be owned and operated by Seaboard out of the Dominican Republic in the Caribbean Sea. Construction is targeted for completion by September this year.
Parts soon ready for PPL Shipyard Singapore
---
It's been full steam ahead in Unithai Shipyard's fabrication of the two leg wells and 10 wing tanks for jack-up rigs required in a contract awarded last December 16 by PPL Shipyard of Singapore. The components are scheduled for delivery in July and September, respectively.