Unithai Expands Shipping and Logistics Business into Myanmar With Chin Corp Myanmar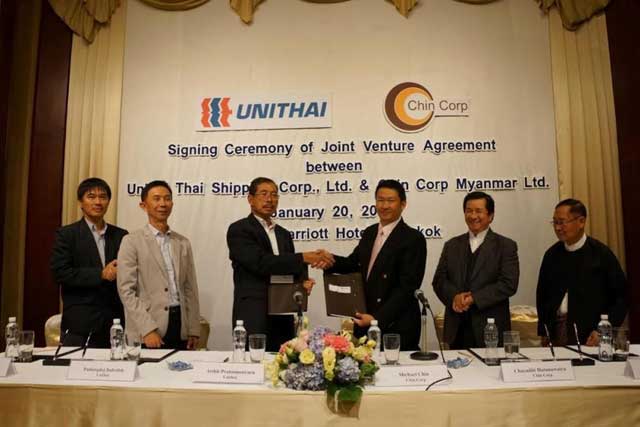 Unithai has signed a Joint Venture Agreement with Chin Corp Myanmar to establish Unithai Chin Corp Logistics (Myanmar) Limited, a joint-venture company that will operate as UNICHIN, providing an entire range of shipping and freight-forwarding services in Myanmar.
Chin Corp is a leading Myanmar-based conglomerate that has strong partnership with major international firms in Myanmar. Its partnerships and ventures have enabled Chin Corp to expand into diverse businesses.
"This venture will enable Unithai and Chin Corp to strengthen their cooperation and collaboration to share experience, expertise and networks to develop shipping and logistics solutions, in response to Myanmar's rapid growth in economic and industrialisation," says Khun Arthit Pathumsuwan, Unithai Group Managing Director. "The benefits and opportunities to be gained will enhance the further growth of UNICHIN in shipping and related business activities in this region."
"The broad expertise of Unithai in shipping and logistics will contribute to the success, mutual benefits and achievements of our ultimate goals," adds Michael Chin, Chairman of Chin Corp Myanmar.
This JV marks another significant milestone for the Unithai Group in shipping and logistics, since the company expanded its logistics operation into Vietnam in 2008, in a JV with Tan Cang-Song Than ICD Ltd, Transport and Chartering Cooperation and Viet Business, and Maruzen Showa Unyu to establish Unithai Logistics at ICD Song Than in Ho Chi Minh City.
About Chin Corp
Chin Corp is a leading Myanmar-based conglomerate that partners with international firms for joint ventures in Myanmar. The company has developed diverse businesses through a number of partnerships and ventures, such as agriculture, agro-chemicals, food, coffee and other beverages, mining, energy resources, property and financial investments.
About Unithai Group
The Unithai Group represents the Thai arm of the IMC Pan Asia Alliance Group, a leading player in the provision of integrated solutions to support the industrialisation of Asia. Unithai's primary business interests are shipping and logistics solutions, shipyard repairs, and marine and offshore engineering operations.