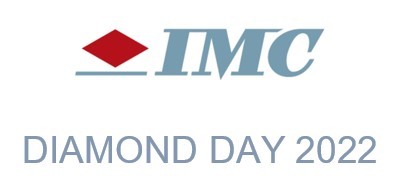 Unithai colleagues celebrated IMC's 18th Diamond Day 2022
Every year on 9 March, we reflect on the rebirth of IMC for IMC Group Business Guidelines for "Sustainable Growth".
This year, we celebrated our 18th Diamond Day virtually with Chairman, Khun Chavalit Tsao and all IMC colleagues worldwide together, focusing on the following Well-being Themes: Transformation, Alignment and Community Building
The event was led by Unithai Business unit leaders who delivered key message on 'Sustainable Growth' from Mr. Chavalit Frederick Tsao, IMC Group Chairman to all employees online. This year, the theme focusing on 'Well-Being' and moving the organization forward together by adapting to the new era.
For this year, IMC to focus on organizational development, Quantum Leadership, to encourage all employees to participate and have the creativity to work on their own in line with the adaption to the new era. In addition, our organizational development (OD) model and the whole system will be adjusted to the current situation as business competition with new processes and creativity from all colleagues.
In addition, we will focus on building a good community for 'Well-Being' especially for all employees and their own families. This will lead to  good mental and physical health and will be positive effect to organization to create sustainable growth.
We also arranged  a ceremony to give away the  'Long Service Award 2022'  which comprises of the Long Service Certification and souvenirs to our colleagues, who have been with Unithai Group for 10, 15, 20 years respectively.
Long Service Award of Unithai Group Corporate and Shipping and Logistics are total 18 staffs Long Service of Unithai Shipyard and Engineering are total 67 staffs
Unithai Group Corporate Office honored by Khun Nopadon Mantajit, Chairman of Unithai Group led by Khun Pairat Tivakornpannarai, Managing Director of Unithai Group
Unithai Shipyard and Engineering led by Mr.Chen Yong, Managing Director,
Mr. Rick Loh Operations Director, Khun Tasanee Soifa, Senior Manager – HR and Administration
UTSE organized Diamond Day and community building activity, Baby Snappers have been released into the sea at the slipway of Unithai Shipyard.
Unithai Container Terminal led by Khun Chirapong Korkitsammakul, Head of Thailand Shipping and Logistics,
Khun Wasa Junsangsuk, Deputy General Manager, Unithai Container Terminal
Unithai Warehouse Bangna KM. 23 led by Khun Savaleeporn Inthasith, Warehouse Manager
Unithai Warehouse Amata Nakorn led by Khun Juthanuch Buranasinwattanakul, Manager – Logistics & Freight Forwarding and Khun Surasak Chitmun, Warehouse Manager
CUEL led by Khun Attasit Korchaiyapruk, Managing Director and Khun Karaked Haruanmitr, HR Manager
Diamond Day Celebrations at CUEL Bangkok Office, LCB Office and CUEL also joined community building activity with UTSE, by releasing the baby snappers to the sea.