Sustainable Scholarships by UTSE & CUEL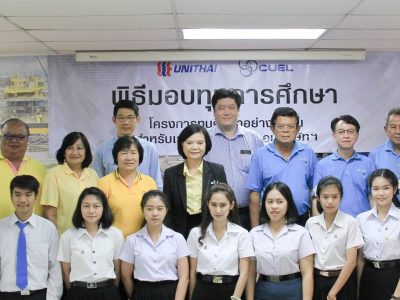 Unithai Shipyard & Engineering collaborated with CUEL to sponsor the scholarships to local youths in 11 communities nearby LCB for Sustainable Educational Development Program 2020
Unithai Shipyard & Engineering and CUEL sponsor the scholarships to local youth in 11 surrounding communities nearby Laem Chabang yard for CSR program – Sustainable Educational Development.
This sustainable scholarship was organized continuously for the 3rd year with a collaboration of Unithai Shipyard & Engineering and CUEL, the objective to expand the educational opportunities for the local youths in 11 communities who need the financial support to pursue their higher education in Vocational Certificate level, Diploma Vocational Certificate level and University Level. The qualified student will be received the scholarship 20,000 baht per academic year.
The company aims to be a part of supporting Thai education and social development as a company mission focusing on business development for sustainable growth along with the development of prosperity in the community, society, and environment.