Unithai Warehouse Locations
In order to cater into the great demand from its customers, we have a latest addition to the UNITHAI chain of warehouses in Laem Chabang, which has a covered area of 9,750 SQM. This suits to almost all kind of general cargo with various specifications and has a state-of-the-art warehouse management system with the customized reporting system suited for the best interests of its clients. In future, we will add a Free Zone warehouse and diversify to accommodate more verticals.
The Laem Chabang warehouse is in a very strategic location and is a short distance away from the port and many industrial estates.
This comes in very handy and is cost & time efficient for import or export shipments. It can also be used as the distribution center to support customers in Chonburi, Rayong & Chacheongsao.
• Kind of warehouse : General Warehouse (Ambient storage)
• Loading bay : 10 units
• Height : 12 meters
• WMS available to control inventory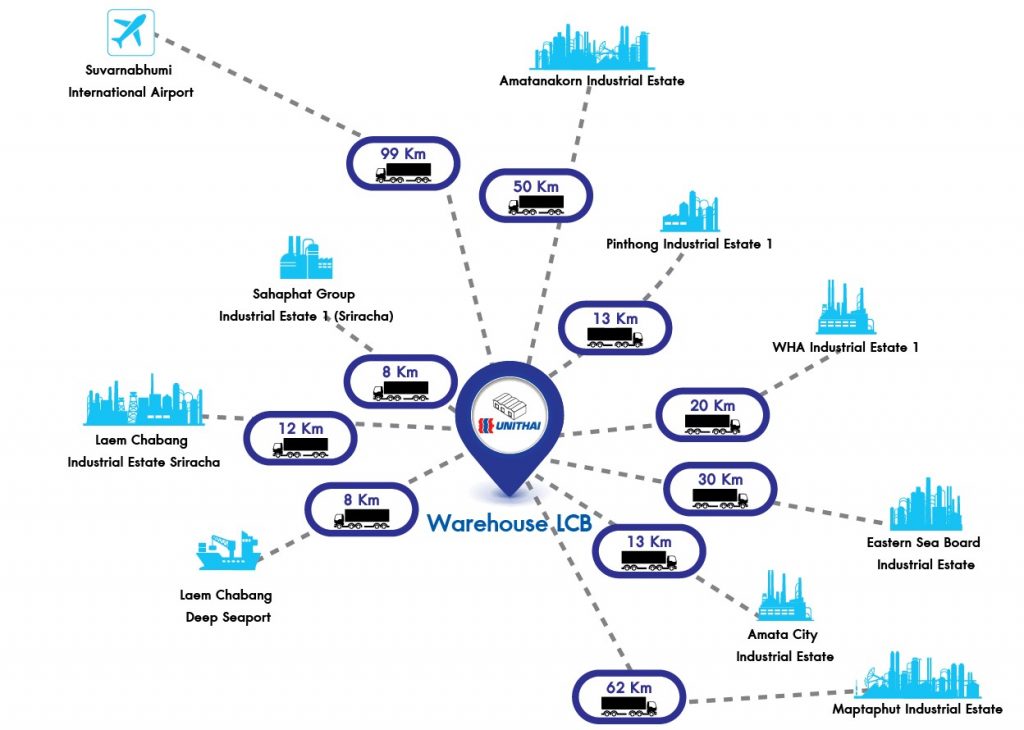 Warehousing Bangna – Trad Rd. KM 55 (Amata I.E.)
• Unithai Warehouse Service operates warehouses located in Amata Industrial Estate.
• 30,000 sqm of General warehouse.
• Packing, sorting and labelling
• Container stuffing/unstuffing with fully equipped dock levelers
• PUSH-PULL loading with special equipment
• Close warehouse with high safety standard
• WMS with easily assessed online inventory report and user-friendly functions
• Accredited as a "five-star warehouse" by Thailand's Ministry of Commerce
Warehousing Bangna -Trad Rd. KM 23 (Flexible, Modern Free Zone Warehouse Space)
Unithai boasts 3,000 sqm of free zone warehouse space and 12,400 sqm of general warehouse space which is expandable up to 30,000 sqm.
• Unithai Warehouse Service operates two warehouse located in Bangna-Trad, midway between Laem Chabang and Bangkok ports, near Suvarnabhumi International Airport and major industrial estates in Samutprakarn, Chacheongsao, Chonburi & Rayong.
• 10,000 + 2,400 sqm of General warehouse space, expandable to 30,000 sqm
• Packing, sorting and labelling
• Container stuffing/unstuffing with fully equipped dock levelers
• WMS with easily assessed online inventory report and user-friendly functions
• Accredited as a "five-star warehouse" by Thailand's Ministry of Commerce
For more information, please contact